****WARNING: IF YOU ARE PART OF MY FAMILY IN OHIO, GO LOOK AT SOMETHING ELSE ON THE INTERNET NOW, AND DON'T COME BACK HERE UNTIL AFTER YOUR VISIT HERE!!!!********
Sorry about that. I'm not clever enough to manipulate those little pop up links to help conceal photos of gift items. So I'm gift knitting. I don't exactly know what possessed me to do such a thing, but I started it and now I have to finish. Blah.
I guess it could be worse......a lot worse, if any of you remember the fiasco with that piece of crap blanket my niece was having me make for her. No offense, Nikki, if you should happen to read this. On the bright side, I came up with a fabulous plan to rework the blanket and make it wonderful. I hope. Anyhow, on to the project at hand. I decided to make the Lil' Devil Pants from Stitch n' Bitch Nation to gift to my nephew's daughter Grace. Nothing says loving like dressing an infant like Satan! I think the pattern is really cute, but I want to hunt down whoever decided to write a baby pattern for such small, small needles and teeny tiny yarn. I wouldn't mind so much except that it goes against my notion of baby knits being extraordinarily quick and I'm on a deadline. There were other factors involved, too, which somewhat hindered my knitting.
When this photo was taken, I don't know that I realized yet that the width of the leg was going to keep getting wider and wider, as opposed to thinning out as I had planned. That wasn't a fun moment of clarity, let me tell you. Harry Potter got finished, and soon enough I was able to devote a little more time to the pants of evil. Here's where I'm at now.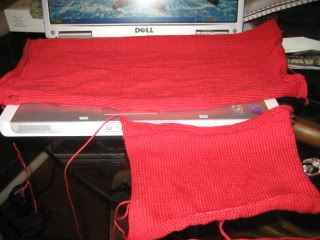 One leg down and the bitchy, lengthy, time consuming part to go on the other. I'm having to divey up my time a little now, because I've become completely enamoured with another project. I'm going to hold off on mentioning it for the moment because I'm not 100% certain that I can actually pull it off. Some of you may already know what it is. If I can do it, it will be a truly spectacular feat, at least for me. I'm also waiting on my Knitpicks order to come in with the fixings for my ginormous spider wen shawl. Someone needs to shoot me.
Okay, I'm off to plot and plan.