FINALLY I found my friggin' camera cord so I was able to upload some pictures. My grand plan was to post one of those murals of all my 2007 knitting. As I went looking through my old pictures, I realized how haphazardly I've photographed a lot of stuff, how many things I haven't taken anything but baby progress shots of (helloooo...Lady Eleanor? And that's a kickass project, too), and finally, how many things I just haven't bothered to take pictures of at all. It's bad. So, I decided to scrap that project. I now have a new New Year's resolution to treat my projects right and give them the photoshoots they deserve. This is, of course, somewhat dependent on my developing some picture taking skills that don't blow. I'll work on that, too.
Ok, so since I'm not doing a year in review, I can at least cover Christmas.
First: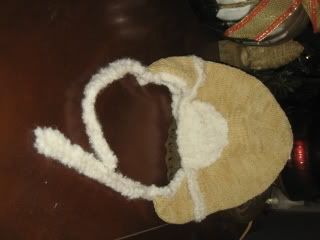 These technically weren't Christmas gifts, but they were knit right along side all the others and gifted......so I'm just going to throw them in here. This set was knit for Sara's baby. I still have to make another set in pink for my nephews daughter. I made a tiny mistake by mentioning that I was sending a gift and hoped it would get there by Christmas in their card. Oops. I better get that started soon. Here's the info-
Pattern: Suede Bootys and Suede Baby Hat by Candi Jenkins
*available on KnittyGritty site
Needles: US sizes 2 and 3 for boots, 6's for hat
Yarn: Berroco Suede in colorways I'm not sure of and Berroco Plush in Creme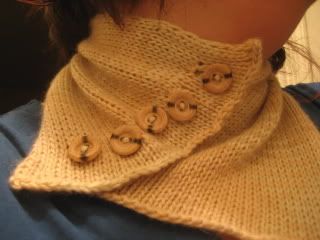 A cashmere neckwarmer knit for my awful sister. I won't go into why exactly I would knit such a thing for someone like her, but those of you who know me well understand the motives behind such gifts This is not the best picture. I took it super last minute while ppl were gathering downstairs for Christmas Eve.
Yarn: Artyarns Cashmere 5, unknown colorway
Pattern: Neckwarmer from Pretending Sanity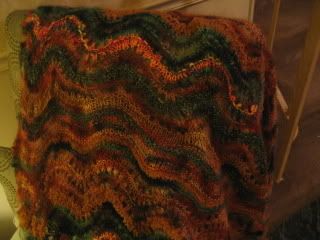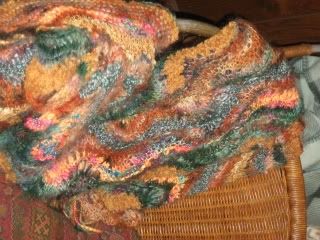 The super secret super project. This is one the Colinette Ab Fab Throw kits in a colorway that's called Santa Fe something. Needle size 11. Making this makes me want to go buy one for myself REALLY. BAD. Maybe even 2 of them. I already have one that I made about 5 yrs ago but its just the vertical stripes. Not too interesting. I'd like to make this pattern and one with the mitred squares.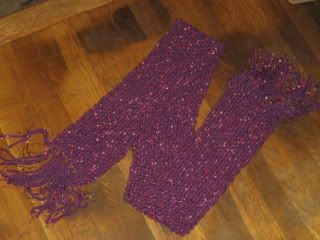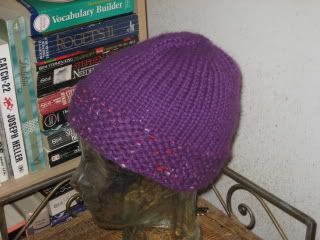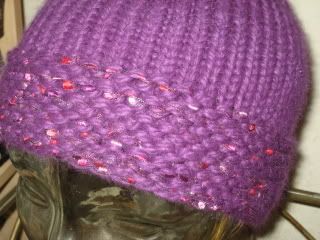 This is the scarf and hat set that I knit for one of my other sisters. I have yet to give it to her because she didn't show up for the family party and I really don't see her. I'll have to mail it, I guess. I really like the hat and am eager to make one for myself.
Pattern: Scarf-basic seed stitch, Hat-Monk Hat over at RedThreadsUntangling
Yarn: Plymouth Baby Alpaca Grande and Eros Glitz...don't know colors
Needles: Scarf, 15?? Hat, 10
If I did this again, I would have used a larger needle on the hat. I had to do it fast and I the 16" tens were what had sitting near me. It is QUITE dense, but still very nice.
Okay, there it is. Soon, b/c I'm really, really going to work on this, I'll have some pics of what all I'm working on now. Till then......Happy New Year everybody:)