I did it! I actually broke down and knit something with stash material! Actually, I had to buy another ball of yarn for this, but I consulted some people on this and the consensus is that it can still be considered a stash busting project. Here it is:
And to get a better view of he colors: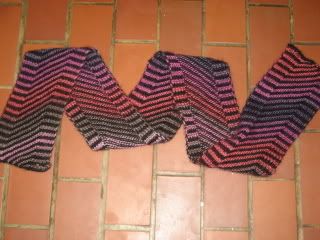 Pattern: Artyarns Cashmere Diagonal Scarf by Iris Schreier
Yarn: Brown Sheep Lamb's Pride Worsted (black)
Paton's SWS in Natural Plum
Modifications: I tried following the directions exactly but the numbers for the foundation section just weren't adding up for me. I ended up skipping the slip stitches and just knitting. I tried to duplicate this on the end section but it got all nasty looking. Something just ended up not right with my stitch count. I tried to fix the little bit of fug that showed up in the last section while I was binding off and it worked, for the most part.
The other big (and perhaps even bigger) news for the day is that my fancy new sock blockers arrived! Even though I don't have too much of a purpose for them, this excited me to no end. Here they are sporting another FO, even though this particular FO is slightly older.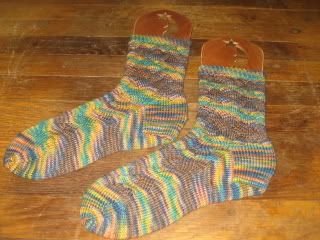 Pattern: Monkey by Cookie A.
Yarn: STR Mediumweight in the Alina colorway
Mods: I omitted all the stitches and just knit the whole thing. This made it go a lot faster because I wasn't having to keep track of numbers, but it also left me with much less give. They still fit though and I think these massive blockers will stretch them into shape.
I also got this nifty stitch marker as a bonus.