Last night I was knitting my grandpa's birthday socks and realized that I was going to run out of yarn....again. Normally this would not be such a big issue. A normal person would just walk into the yarn shop, pick up an extra ball of whatever and buy it. I see it all the time. I work in a yarn shop. This is not the case with me. The first time I ran out of yarn I went in and picked up another ball of my Chunky Al. It's right there next to the door at Fiberworks. However, I then walked right past the checkout and headed straight for the Noro. I ended the day with this, minus 4 more balls of Kureyon that are already scarfified.
The green/gray stuff is Noro Transitions and the other is Kureyon in some un-remembered colorway. I got the wool to remake the Hurry Up Spring wristwarmers in Stitch n' Bitch Nation, but now I'm questioning that. I have no immediate plans for the other.
Today I went for JUST the Chunky Al. Same routine. Walked in, turned right there next to the door and picked up my yarn, then walked past the checkout towards the Noro in the back. This time I stopped midway and picked up some Elsabeth Lavold Hempathy, too.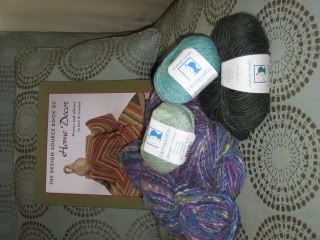 In all fairness to myself, this trip was less selfish in nature and therefore doesn't count......much. Oh, I also picked up the Manos throw book I've been questing for. It turns out that it's very old, which is opposite of the new books I've been going through looking for it. The Hemp yarn is for the washcolths that I've decided to go ahead and make for my sister. The really wonderful, pretty, pretty stuff is Noro Silver Thaw in purple (obviously). Here is a closeup.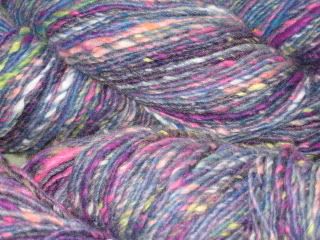 If this were a man, I'd marry it. Except then I would be the least attractive in the relationship and that may upset my preferred power balance.
I need help. I should never be allowed into a yarn shop unsupervised, or with anyone who may encourage buying. All this is excluding the Noro I bought on my initial trip to buy sock yarn. I will save that yarn porn for another day.